My new favorite tool for quick and easy expense reports
One of my least favorite activities in my job is organizing, inputing, and submitting my expenses. To make things worse, I often procrastinate, and just let the stack of receipts pile up. The irony is that some are reimbursable–and yet that did not seem to provide the motivation to face the pile. I still am a master at putting this task off.
Challenge one: Systematizing
I needed to find a system that would be simple, streamlined, user friendly, and flexible enough for my on-the-go work life.
I travel quite a bit for work, so my office is my computer, iPhone, iPad, and a small tote bag. My last series of trips had me away from home for 7 weeks straight. Mobility and flexibility is normal in today's work world.
And who has time to organize receipts when jumping out of a taxi to catch a flight? Or who wants to hold up the line at Starbucks when having a meeting over coffee just to categorize and file the expense?
Challenge two: Centralizing
I needed to find a central place for organizing expenses. With technology, expenses now come in a variety of formats:
The traditional paper receipt
The online link to a receipt sent via text or email, which must then be opened to see detail
The Square mobile credit card reader, which sends a receipt with detail via text or email
Notes of expenses where no receipt was given (this happens most often when traveling internationally and I buy a water or a banana and seem like the biggest nuisance to ask for any documentation for something so trivial)
Odometer readings (I snap a photo of my odometer with my iPhone and email it to myself, some keep a small notebook in the car, others use apps)
Recurring online bills that once paid you need to follow several steps to save or print the receipt
Recurring bills that are auto-paid monthly and you have to remember to visit the website to get documentation
One of the biggest things eating my time was figuring out how to gather all of these expenses in all these formats in one central location–easily.
Challenge three: Satisfying
I needed to find a streamlined format that would satisfy my employer, the bookkeeper, and not drive me crazy.
There are those who just need to read enough detail to approve the reimbursements. No frills. Simple. Clean.
And there are those who need everything in a CSV file or excel file or Quick books ready. They need every little detail. Ready for auditors. Line by line. Categorized. Chronological.
Challenge four: Syncability
I needed something that I could use from multiple devices. A secure cloud network that stored my information and I could access from anywhere–safely.
I had been using the iXpenseit app on my iPad, only to discover that it didn't sync with the same app on my iPhone. I couldn't enter things from the computer either. My iPad became the only way I could enter expenses and have an ongoing record of everything, past and present. The app has a lot of great features, but just not flexible enough.
Challenge five: Free
I get frustrated with apps that say they are free, but then charge for any features that will make it actually useful. I don't mind if there are two version–one that is free and does a lot, and then one that is premium and goes all out. But my work doesn't pay for my productivity tools–yet (she writes hoping). If it has to come out of my personal budget, and there are other things I want to invest in first, free is critical.
And then I found it. And it was love at first use.
I dread investing time in trying new products, apps, and services. Especially when I am trying to increase my productivity and feel like I wasted time, energy, resources on something that just didn't work. But I'd say this one is well worth it: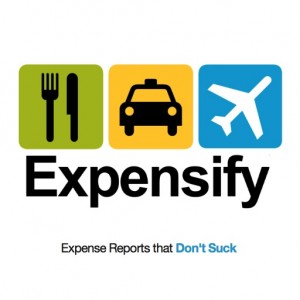 Expensify: www.expensify.com
They do a much better job than I can here showing off their product–so you may want to just stop reading and go to their site or to the app store and see things for yourself.
Here's my quick list of a few things I loved from my initial use as I tackled my pile of receipts:
It syncs across devices. You can use it online from your computer or from the app in your phone / ipad and it all syncs together.
It syncs with Evernote, my favorite overall tool for everything!
Digital receipts can be emailed to expensify and it automatically puts them in.
It uses Smartscan to read the receipts I scanned in / sent– automatically pulling pertinent information (vendor, amount, date)
I had circled one item on a receipt because it was the only reimburseable, and it even figured that out without me having to tell it.
You can snap a photo of a receipt and email it or import it
It creates a very clean report that accountants can easily import into their own accounting systems
It creates the ability to go paperless and still have necessary files
You can easily search by category, date, vendor, trip, etc.
You can import your work credit card to it, and it will match scanned receipts to your credit card for you (I haven't tried this feature yet.)
It generates receipts for you that are expenses under $75 if you don't have a paper receipt
You can set it up to share with others, who can view or contribute (like the person who approves your reimbursements)
You can set it up to handle the transfer of funds for the reimbursement for you
If you want more features, you can always upgrade to premium (or talk your work into investing in the business version for all employees)