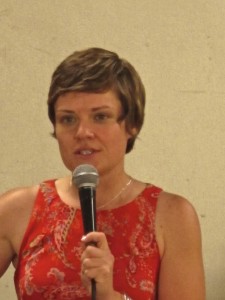 Hi. My name is Allison and I love meaningful conversation, reflection, and action. Especially when it comes to how we engage our local communities and the world.
Welcome to my blog, a little piece of internet real estate filled with thoughts, stories, resources, and a collection of content about life and leadership.
My hope is to help others live integrated and missional lives filled with meaning and purpose. I want to help foster deep connection with a living God who can be found in the everyday, ordinary stuff of life.
Why This Blog?
I love journeying with others and want to have a common meeting place around ideas, stories, and resources
I love reading and writing and often reference things — this blog is a great way to consolidate material in one place
This blog explores current issues facing leaders today. It raises questions and points to resources.  It contains thoughts on a variety of subjects related to life and leadership
I reflect on spiritual practices, healthy rhythms of life, and the search for wholeness in everyday living
This blog is an exploration of what it means to live an integrated life
My goal is not to just talk about developing missional community, but to share the actual doing and being of missional community — (even as the word missional has taken on a wide range of meanings these days…)
To help immerse people in a culturally intelligent biblical worldview so we can be effective and responsible in our missional living and leadership
More About Me:
I am a pastor serving in Seattle and fill a variety of roles. The most important part is investing in people, having spiritual conversations, and seeking to engage our neighborhoods and world in ways that lead to health and wholeness. More here: www.ffmc.org
For five years prior to this role I served as part of the leadership team for the Latin America Area of the Free Methodist Church. The goal is to fuel and sustain a movement that reaches Latin Americans for Christ. You can see more about this great ministry at www.LatinAmericaArea.com.
I am an ordained elder in the Free Methodist Church and serve on the denominations "Study Commission on Doctrine". We serve by studying theological and social issues facing the church and make recommendations to what we call our "General Conference."
This year I'm headed to Indonesia as part of the Lausanne Younger Leaders Gathering–1000 leaders from over 160 nations. The Lausanne Movement seeks to connect influencers across ideas, regions, and generations for global mission. Explore more here: https://www.lausanne.org.
Because some will find it helpful to know:
I'm a reflective practitioner who values the intersection of experience with solid research. I completed my Doctor of Ministry (DMIN) degree in 2013 at Northeastern Seminary. My dissertation title is: "Immersion in a Culturally Intelligent Biblical Worldview: Becoming effective and responsible participants in God's mission."